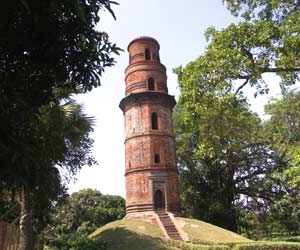 Location:
40 km downstream from Rajmahal, Malda district
Highlights:
Architectural ruins
The city of Kolkata offers you wonderful excursions. If you want to have historical and archaeological expeditions near the city, Gaur is the place for you. The city is said to be one of the oldest residential places in West Bengal. Located near the western bank of Ganges, it is about 40 km downstream from Rajmahal, in the Malda district of the state. Though the wonderful architecture of the city has now been reduced to ruins, there is an aura about this place that attracts tourists towards it in the present times as well.
Earlier, Gaur was known as Lakshmanavati as it was said to be discovered by Lord Lakshmana, the brother of Lord Ram. Later, during the Muslim reign, its name was corrupted to become 'Lakhnauti'. The city was also known as Gauda, in the reign of the famous Bengali ruler Sasanka. Though the historical links of the city are very old, the exact records are available only from 1198, after Muslims conquest over this place. It has also remained the capital city of ancient and medieval Bengal for long.
Gaur is a wonderful destination for archeological studies and historical surveys. The monuments of Gaur are now looked after by the ASI (Archaeological Survey of India). Though most of the architectural structures have merely reduced to ruins, owing to the small and thin rocks used in the construction of buildings here, you can still roam around the place, to have a look at the chronological journey of the city and get an idea as to why it was a prominent center of politics and state affairs in the past.
In the old remains, you can have a look at the famous Bara Darwaza of the city built in 1526. The other famous architectures here are Small Golden or Eunuchs' mosqUe, Tantipar Mosque, Dakhil Darwaza, Kadam Rasut Mosque and Firoz Minar. The tomb of the saint Makhdum Shaikh Akhi Siraj is also visited by many tourists. This city, surrounded by dense forests and covered by remains of the wonderful architecture, is mostly loved by those who want to explore the stories from the old remains. If you are one of them, wait no more, pack your bags and leave for Gaur!