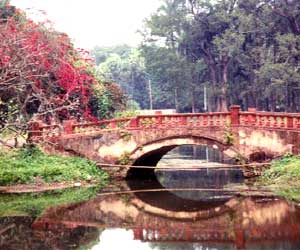 Location:
Howrah city, near Kolkata
Founded in:
1787
Spread over:
109 hectares
Highlights:
Oldest botanical garden in India
Located at the Shibpur area of the Howrah city, near Kolkata, Indian Botanic Garden is the oldest botanical garden in India. Earlier named the Royal Botanic Garden, it was founded by Colonel Robert Kyd, an army officer of the British East India Company, in the year 1787. The key purpose behind the establishment of this garden was to identify new plants of commercial value. Today, the Botanical Garden of Calcutta boasts of having over 12,000 living plants and over two and half million dried-out plant specimens. Thousands of tourists visit this garden on an everyday basis.
There are several things that are worth watching at the Indian Botanic Garden of Kolkata. Several varieties of plants, collected from all over the globe, make a mini- global herbarium in the garden. The collection in this herbarium includes the rarest of rare species of plants and tress, from Nepal, Brazil, Penang, Java and Sumatra. However, the chief attraction of this botanical garden remains the huge Banyan tree situated inside, with a circumference of 330 m. It covers an area of 404 sq m and is also considered to be the oldest Banyan tree in the whole world.
The Botanical Garden is spread over a total area of 109 hectares. It stretches for somewhere about a kilometer, on the western bank of the Hooghly River. The orchids and the flower collection in the garden are quite beautiful as well as interesting. There is also a Palm House located in the centre of garden, which is also well worth a visit. The aquatic plants of the garden also craft up a good sight at the Indian Botanic Garden. Apart from all this, there is also a botanical library inside the garden premises, which houses a very rich collection of books, on trees and their life cycle.