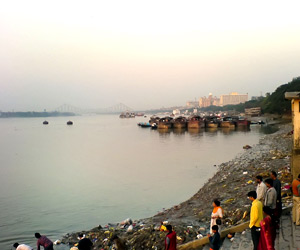 Location:
Near Howrah Bridge, Kolkata
Highlights:
Center of several religious rituals
Kolkata is located by the side of water bodies. There are several ghats (riversides) in the city, of which a popular one is the Outram Ghat. The history and glory of this particular ghat can be traced back to times of the British reign in India. In those days, this place was a perfect place for rendezvous and evening jay walkers. It was also a preferred port of call for many foreign cargo vessels. In fact, most of the British gentry and quintessential Bengali people preferably used this ghat, due to its strategic location. The place is named after Sir James Outram, a brave General of the British Army.
Even today, Outram Ghat is one of the most preferred, silent and sober riverside entertainment spots in the Calcutta. With its strategic location, near the colossal Howrah Bridge and Babu Ghat, Outram Ghat makes a perfect destination for an early morning and evening walk. The gentle sweep of the mystic river Hooghly below also adds to its beauty. Apart from being a means of casual time pass, this place is also a center of several religious rituals. From holy baths, birth and death rituals to idol immersions, lots of religious activities are performed here. On Durga Pooja, the place is overcrowded with enthusiastic devotees.
The recent attraction of Outram Ghat is a waterfront hangout, located besides Scoop - the ice cream parlor. It is named Cuisine Cruise and is anchored at the ghat pier from 10 a.m. to 8 p.m., every day. An inclusive ticket to board the cruise and purchase items at the food court can be brought for only Rs. 50. Ideally, the beat day to board this cruise is Sunday, when the vessel takes off for a fascinating trip from Shutanuti Ghat to Baghbazaar to Belur Math and vice versa. Though, the ticket on Sunday costs Rs. 300, the fun is incomparable to any other day. Other tourist spots nearby are Victoria Memorial and Millennium Park.