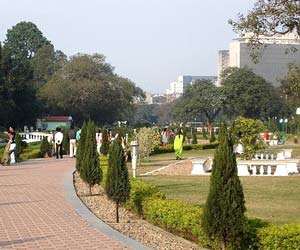 Location:
Near Victoria Memorial, Kolkata
Inaugurated in:
2005
Inaugurated by:
Pranab Mukherjee
Spread over:
11 acres
The city of Kolkata is full of community parks and gardens. Amongst the many gardens in the city, Citizenís Park, which is situated near Victoria Memorial, is surely a praiseworthy effort by the Kolkata Municipal Corporation, to make the city appear more organized and beautiful. It was inaugurated by the eminent politician Mr. Pranab Mukherjee, on 8th May, 2005. The park is extremely beautiful and well maintained. It is a very nice place for spending time sometime in solitude, amidst natural beauty.
At dusk, Citizens Park looks extremely beautiful, due to the colorful lights adorning its premises. People come here in groups for jogging, morning and evening walks and small get-togethers. The park is spread over an area of about 11 acres. It is very famous for its dancing fountain that operates every evening, at the time of dusk. Citizen Park also has an open air gallery, some military hardware, fighter and bomber aircraft, canons, armored vehicles, and tanks. The gallery depicts the story of the birth of Bangladesh, from Pakistan.
Hundreds of people come to the Citizenís Park of Calcutta every day. Except for the locals who come here for jogging and walking on a regular basis, the majority of people are tourists, who come to visit Victoria Memorial located near by. People also come here after watching movies, in the famous 'Nandan' theatre, which is situated near by only. The area is well connected with frequent bus service. The nearest metro station from the Citizens Park is that of Rabindra Sadan. So, you will have no trouble in reaching here.