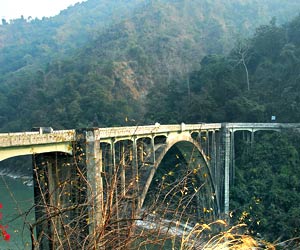 Location:
20 km from Siliguri (West Bengal)
Founded in:
1930
Siliguri is not just the gateway to the northeastern region of India, but also a mecca for tourists to experience the bountiful glory and ecstasy of nature. There are umpteen excursion options for tourists in Siliguri. With just an hour or two of drive, one can reach the most scenic and picturesque places around the city. One of the must-see places near Siliguri is the Coronation Bridge. Located about 20 km from the city, on its outskirts, it is a very important bridge in the Northeast India and connects Darjeeling with Jaipalguri.
Built in 1930, over the renowned Teesta River - at the confluence of rivers Rangeet and Teesta in West Bengal, Coronation Bridge marked the coronation of King George V. The bridge is an excellent representation of the outstanding and brilliant designing skill & architecture style of the British. A relic of the yesteryears, it boasts of a magnificent layout and style. Today, Coronation Bridge is marked as a real specimen of excellence in craftsmanship. The bridge is located close to Sevokeswari Kali Mandir in Siliguri.
Coronation Bridge forwards the tourists a panoramic view of the nature. The place is a perfect combination of blissful blues and enlivening greens. Set amidst the backdrop of tall green mountains on both sides, the bridge is an ideal retreat for those in quest of serenity and tranquility. The plenty of foliage, along with crystal clear blue water, of the Teesta River makes the place a refreshing picnic spot. In short, Coronation Bridge is a haven for people who want to bask in the charm and charisma of nature.
Present Times
Offering breathtaking view of the lush greenery and cool blue waters, Coronation Bridge has long since been an ideal retreat for travelers who want to experience the glory of nature. However, the number of visitors coming to the place has been minimal, due to its underdeveloped surrounding. Now, this scene is fast changing, as the area is being developed and promoted as a major attraction for both locals and tourists. People en-route to Sikkim or Darjeeling visit Coronation Bridge to take a break from the journey and to revel in the beauty of sparkling water and mesmerizing scenic view.