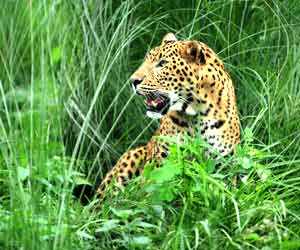 Siliguri is one of the most important cities in West Bengal. Surrounded by the majestic Himalayan range, the city offers a lot of attractive places to the visitors. Right from religious sites and shopping centers within the city to wildlife sanctuary and picnic spots nearby, tourists can never get bored or jaded in the city. Being a gateway to the hilly zones of north-east India, the blissful journey towards the attractive locations is worth experiencing. At the same times, the excursion sites near Siliguri are not only blissful, but extremely entertaining and enjoyable. In the following lines, we have listed the popular tourist places near Siliguri.
Excursions From Siliguri
Savin Kingdom
Savin Kingdom is the latest addition to the list of excursion spots in Siliguri. An amusement park sited at a scenic location, the place is beautifully snuggled amidst spacious and serene tea farms. The park offers enjoyment facilities for people of almost all age groups. Right from the wave pool to the 90 feet high slide or recliners, the park offers the perfect entertainment option for one and all, irrespective of their age.
Sevokeshwari Kali Mandir
Poised in a picturesque setting, Sevokeshwari Kali Mandir is an ancient temple sited close to the Coronation Bridge. The temple enshrines Goddess Durga in her Kali form. The idol, adoring majestic jewels and armory, is one of its kinds in the region. Apart from holding a divine presence, the temple is a popular tourist spot, thanks to the lush green foliage, cool pleasant breeze and panoramic view of the awe-striking Kanchenjunga peak around.
Umrao Singh Boat Club
Located at Sukna, near Siliguri, Umrao Singh Boat Club is one of the frequently visited weekend destinations for both tourists and locals. It has been developed and maintained by the Indian Army. Nestled amidst tea plantations and lush green foliages, the boat club offers many entertainment facilities, like boating. It is very well equipped, what with numerous boats of different sizes and shapes. Also, the type of boats available here varies from the pedaled ones to the engine fitted ones. Set in a picturesque location, with a calm and cool ambience, the place presents the perfect option to enjoy the beauty of nature.
Jaldapara Wildlife Sanctuary
For adventure lovers, Jaldapara Wildlife Sanctuary is just the right address. Nestled in Alipuduar subdivision of Jalpaiguri district (in West Bengal), it represents a vast expanse of forest, in the foothills of Himalayan range, enveloped by blissful greenery. About 124 km from Siliguri, the sanctuary is a natural habitat for many varieties of wildlife fauna and flora. Right from Royal Bengal tigers, elephants, deer and sambhar to wild pigs and bisons, the list of animal found herein is endless. However, the main attraction of the sanctuary is the Asiatic one-horned rhinoceros. More