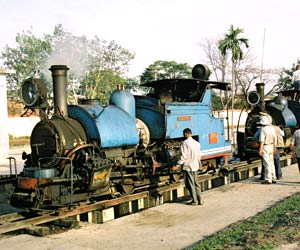 Siliguri is the second most important city in the state of West Bengal, after Kolkata. Located at the foothills of the glorious Himalayan range, the city, apart from boasting a panoramic view of the nature, has a number of tourist attractions to its credit. Right from the holy and scared ISCKON (International Society for Krishna Consciousness) Temple to the numerous shopping centers and the informative, yet entertaining Science City, Siliguri has a number of places that are worth watching. To get detailed information on the tourist places in Siliguri, browse through the following lines.
Places To See In Siliguri
ISKCON Temple
One of the most prominent tourist attractions in Siliguri is the ISKCON temple. Dedicated to Lord Krishna, it is deemed as the biggest Krishna centre in the whole northeastern region. Though the temple is built in a modern architectural style, it has beautifully retained the ancient Indian customs of 'Vashtuhaara'. The temple houses Radha Madhav idol and an image of Lord Krishna with Radha. More
Shopping Centers
Siliguri is a paradise for shopaholics, what with its numerous shopping centers. One of the most famous markets in town is the Hong Kong market, which specializes in imported goods, mostly made in China. Right from a nail cutter to a high-end party dress, you would find a shop for everything in the market. Apart from this, the other markets one can check out are Bidhan Market, Nivedita Market and Sunflower Shopping Mall. Keeping up with the conventional norms of shopping, Siliguri also boasts of an up-market shopping mall, named Cosmos.
Railway Junction
For those who love to have a glimpse of the bygone era, Siliguri Junction is just the ideal place to be in. In the junction, one can see the steam engines of narrow-gauge 'C' class, a relic of the British Raj. Started in 1949, it once was the departure point for all the trains in the northeastern region. One of the distinctive and unique factors of Siliguri Junction is that it is the only station in India, with tracks of all the three gauges used herein.
Science City
A highly accomplished institution, Science City is a knowledge base of science in Siliguri. Well equipped with numerous scientific equipments, the museum exhibits various scientific experiments. Also known as North Bengal Science Centre, the complex encloses a planetarium and a Nature Interpretation Centre, displaying the region's natural diversity in flora and fauna. Its planetarium showcases interesting shows on astronomy. Due to all this, Science City has become a common place for educational tours.