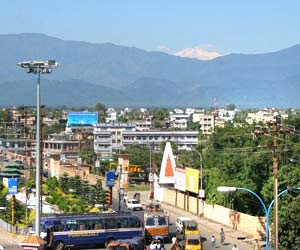 Location:
West Bengal
Altitude:
329 ft
Summer Temperature:
Max: 35°C; Min: 20°C
Winter Temperature:
Max: 15°C; Min: 3°C
Average Rainfall:
2600 mm to 4000 mm
Best Time to Visit:
March to Mid-May; November to January
Siliguri is situated at the foothills of the Himalayan mountain range. The city offers panoramic view of the glorious mountains. It also serves as the gateway to the hill towns of Gangtok, Rangpo, Kalimpong, Kurseong, Mirik and Darjeeling. Thanks to the mountainous ranges surrounding it, the weather in Siliguri remains pleasant for most of the months of the year. Just like any other city in India, Siliguri has three distinct seasons - summer, winter and monsoon. To get detailed information on the weather and climate of Siliguri, read through the following lines.
Summers
Siliguri, located in the shadows of Himalayan range, experiences comparatively cooler temperatures as compared to the central and southern regions of West Bengal. Though the average temperature rarely goes beyond 35o C, Siliguri experiences almost 81% humidity. However, the cool winds blowing from the mighty Himalayas come as a respite, keeping the temperature low and subtle. Summer is also the peak season for the city, as visitors from all over the world come to Siliguri to enjoy the light breeze from the Himalayas.
Monsoon
The coming of June marks the arrival of monsoon in Siliguri. One of the three prominent seasons, it lashes the city with heavy rains. The monsoon season lasts till the month of September. July and August receive intense rainfall, with average rainfall recorded up to 200 mm per day. The annual average rainfall ranges anywhere from 2600 mm to 4000 mm in Siliguri.
Winters
Winters in Siliguri are soothing and spellbinding. Starting from November and lasting till February, the season is chilly, with mercury dropping down to almost 3o C. A unique feature of the winter season in Siliguri is that it is characterized by dense fog and light rains. With such a soothing weather, tourism during winters observes a marked rise, thanks to the beautiful and strikingly magnificent Himalayan range.