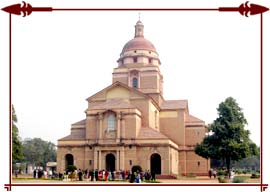 Nestled in the serene and quiet area off the Church Lane on North Avenue, the Cathedral Church of the Redemption is an exemplary and remarkable piece of architecture in the capital of India. The tall shady trees and the spruced up lawn in the backdrop add to the beauty of this marvelous place of worship. Situated to the west of Parliament House and Rashtrapati Bhawan and north of Jaipur Column, the Cathedral Church of the Redemption lies close to Connaught Place, one of the most happening places in the capital city of Delhi. The exclusivity of the church lies in its bizarre shape of a birthday cake, topped with a candle. The church forms a part of the Delhi bishopric of the Church of North India (CNI) denomination for Protestants.
Named after Palladioís Church of II Redentore in Venice and Lutyens St Judeís Church, Hampstead Garden Suburb, the Cathedral Church of the Redemption was instigated in the early 1900s. History narrates the need for conduct of Christian spiritual rites by the British officers in Delhi that led to its establishment. To fulfill the demands, Rev T.R. Dixon was selected as the Chaplain with the initial services being held at the present Toga Ashram. Donations were requested and responses that flowed in were tremendous, with much of the funds pouring in from the kitty of affluent and well-to-do royals, Christians and people from other beliefs. A committee that was formed was successful in finalizing the design drafted by H.A.N. Medd. Thus, began the construction of a peaceful shrine which concluded in the completion of a home of offering prayers amidst supreme harmony.
What started as a basic thought of providing a common place to meet and pray became a highly celebrated church over the next eight years. The foundation stone that was firmly placed by the then Viceroy Irwin on February 23, 1927, to be regarded as the central dome, was finally wrapped up into a magnificent and awe-inspiring architectural wonder. The church opened its doors for public viewing for the first time on January 18, 1931. However, the church operated as a member of the Church of India, Pakistan, Burma, Ceylon. It was only on April 21, 1947 that the church separated from this denomination and became a part of Delhi diocese. Arabindo Nath Mukherjee was elected as the first Bishop.
Over the last eight decades, this parish has been a witness to innumerable weddings, festive celebrations, and funeral and baptism ceremonies. The red leather-bound Cambridge Press published Bible dating back to 1733 deems to be most prized possession of the church. Besides the weekly masses and rituals, the church hosts a large variety of services, some popular amongst them being on the occasion of Thanksgiving Day, Christmas, Advent, New Year, All Saintís Day, Healing Sunday, Bible Sunday, Teacherís Day, Festival of Least the Coin, Leprosy Sunday, Motherís Day, and World Day of Prayer.