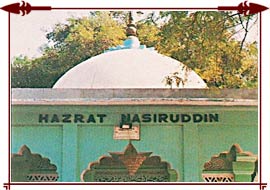 Chiragh-I-Delhi Dargah is situated in the village of Chiragh Delhi. This township grew up around the Dargah slowly and gradually. The dargah entombs Nasir-ud-Din Mahmud, who was bestowed with the title of "Raushan Chiragh-I-Dili" (illuminated lamp of Delhi). He was a disciple of Hazrat Nizam-ud-Din and also succeeded him to become the head of the Chishti sect. Nasir-ud-Din Mahmud was a mystic as well as a poet. His compositions have contributed greatly to Urdu poetry. The saint left for the holy abode in the year 1356.
Initially, the main tomb was enclosed within rectangular walls, built of rubble. This chamber was constructed by Muhammad Bin Tughlaq, who later added a small gateway on both sides of the tomb. However, the original Chiragh-I-Dili Dargah has undergone renovations and repairs a number of times. Now, a twelve-pillared square chamber, enclosed within perforated screens, consists of the tomb of Nasir-ud-Din Mahmud. The chamber has four small domed towers at the corners and is surmounted by a plastered dome, rising from an octagonal drum.
A number of structures, like the Majlis-Khana (assembly hall), Mahfil-Khana (symposium hall), were added to the Delhi Chiragh-I-Delhi Dargah some time back. The structure also comprises of a graveyard, which houses the graves and tombs of several distinguished personalities. Last but not the least, there are a number of mosques situated inside the premises of the dargah. One of these mosques was built by King Farrukhsiyar, in the early 18th century, in the honor of Nasir-ud-Din Mahmud.