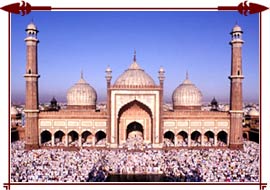 Jama Masjid is one of the largest mosques in India, also known by the name of "Masjid-i-Jahan Numa" (visible to the world). Situated near the Red Fort in Delhi, it is one of the last monuments built by Mughal emperor Shah Jahan. Designed as Shah Jahan's primary mosque, Jamma Masjid of Delhi is built in red sandstone, with an extensive use of white marble. The interiors of the mosque are inlaid with stripes of black. It took six years to complete this simple yet elegant monument. Delhi Jama Masjid was built on a high platform so as to make it visible from all the neighboring areas.
Ostad Khalil, a great sculptor of his time, designed this mosque. Built as the replica of Moti Masjid in Agra, it has three gateways, four towers and two minarets. However, the most impressive feature of the mosque is its pulpit, carved out of a single block of marble. Gracing the portico of Jama Masjid, the slender minarets, one on each side, are approximately 130 ft high. As you enter inside the mosque, you step into a stadium like courtyard. Wide staircases and arched gateways are the trademark of the Jama Masjid of Delhi. The relic of the Prophet as well as the Holy Koran is shrine in a small shrine inside the mosque
One of the most valued treasures of the Delhi Jama Masjid are a hair of the beard of Hazrat Mahmmad, his used chappal (footwear), the canopy of his tombstone, the foot print of Muhammad on the stone and a chapter of Koran taken from its original holy book. All of these are kept in the northeast corner of the mosque. The main imams of this Jama Masjid have always been the direct descendants of the first Imam appointed by Emperor Shahjahan. Till today, this tradition of appointing his descendants as the main Imam has been carried out without any break. People of other religions are allowed inside the mosque throughout the day, except for between 12:30 pm to 2:00 pm.