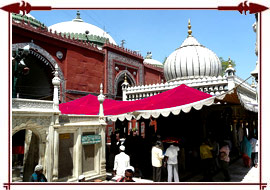 Nizamuddin Dargah enshrines Hazrat Nizamuddin Auliya or Nizam-ud-Din, a revered Sufi saint. During the lifetime of the saint, a settlement developed here, still inhabited and known by the name of Nizamuddin. Hazrat Nizam-ud-Din Auliya Dargah of Delhi also entombs Amir Khusrau, a poet and the saint's favorite disciple. The Dargah was built by Muhammad Tughluq and consists of one of the most revered pilgrimages of the Muslims. Other tombs enshrined in the Delhi Hazrat Nizamuddin Awliya Dargah are those of Jahan Ara Begum, Shah Jahan's daughter and Mirza Ghalib, a distinguished poet.
Surrounded by a number of tombs, this Dargah is constructed on top of a tank. There is a legend attached to the Nizamuddin Dargah. It is believed that there was an argument between the rulers of Tughluqabad and the saint over building this tank. The saint, in anger, cursed the rulers that the city of Tughluqabad will never prosper and so did it happen. After its initial construction, the Dargah underwent a number of renovations and reconstructions. The present mausoleum, constructed by Faridu'n Khan, dates back to the year 1562-63. Qawwali singers perform at Hazrat Nizam-ud-Din Auliya Dargah of Delhi around sunset after the evening prayers.
The square chamber of the Dargah is adorned with verandahs and arched gateways. Domed roof of the building has vertical stripes of black marble and is crowned by a lotus cresting. Even the area surrounding the tomb is considered as sacred. Many Muslims, including the royals, have been buried here. The rush for the Dargah is exceptionally heavy during Id and the Urs fair held twice a year. The Urs fair is organized bi-annually n the death anniversaries of Hazrat Nizam-ud-Din Auliya and Amir Khusrau. There are a number of monuments in the Delhi Hazrat Nizamuddin Awliya Dargah including Jama'at-Khana Masjid, Chini Ka Burj (mosque), tombs of Muhammad Shah and Mirza Jahangir, Kali-or-Kalan Masjid, etc.