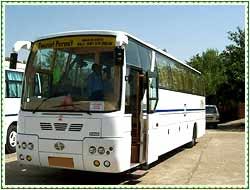 Nestled amidst the lush green mountain ranges of Himachal Pradesh, Chail is one of the preferred destinations amidst the usual tourists as well as honeymooners. The reason for this mainly comprises of the romantic ambience offered by the natural beauty and salubrious weather of this hill resort. On top of that, even reaching the place presents no problem at all, mainly because of the fact that Chail is well connected with all the major cities of India. In the following lines, we will tell you more about 'how to reach Chail'.
Traveling to Chail
By Air
Located at the distance of 45 kilometer from Chail, Jubbarhati Airport of Shimla is the nearest airport from the city. From there, one can find frequent flights to Delhi and Chandigarh. The next nearest airport from Chail is that of Chandigarh (115 km), from where one can opt for either taxis or regular buses for traveling to Chail. If you want to check out the nearest international airport, Delhi (370 km) will be the place to head to.
By Rail
Kalka, located at the distance of 86 kilometers, forms the nearest railhead to reach Chail. It is well connected with almost all the key cities of India. Another option left with travelers is the next-nearest Chandigarh railway station, which has regular trains from cities like Delhi, Mumbai, Jaipur, etc. From Chandigarh, one can easily find taxis as well as buses for Chail.
By Road (Shimla to Chail)
Kandaghat, located at the distance of 29 kilometer from Chail, is the nearest road link from Chail. There are not direct buses from Delhi for reaching the hill station. However, you can take a bus till Kandaghat and from there, hire a local taxi. Another option is go to Chandigarh or Shimla, and from there, take a regular bus or a taxi for Chail.