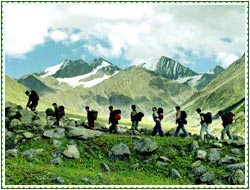 Chail is a small little hill town situated in Himachal Pradesh, amidst lush green mountain ranges. The place came into being when Maharaja Bhupinder Singh of Patiala made it his summer capital. A picturesque hill resort, it attracts those tourists who want to revel in the beauty of nature and spend some time away from the hustle and bustle of city life. For all those who want to know about the things to do and places to see in Chail, this article will come handy.
What to Do in Chail
See the Wildlife
If you are one of those who love to explore the natural wonders of a place, then Chail Wildlife Sanctuary is surely a must-see place for you. Sprawling in the sub-Himalayan range of mountains, it boasts of rich and varied wildlife, which includes sambar, goral, deer, kalijin and cheer pheasants.
Watch Polo Matches
Chail is not only home to a wildlife sanctuary, but also houses Chail Cricket Ground, one of the highest cricket and polo grounds in the world. Perched at a height of 2144 meters above the sea level, this polo ground stands surrounded by tall deodar forests all around.
Go for Trekking
Chail provides you the opportunity to explore the snowcapped peaks of sub-Himalayan range of mountain through trekking. The two most popular treks in the region are from Chail to Gaura and Chail to Jhaja. Apart from pumping your adrenaline level, these treks would also bring you across the rich flora and fauna of the place.
Explore the Heritage
For those who are in love with architectural beauty and are interested in manmade marvels, Chail Palace is the place to be. Constructed by Maharaja Bhupinder Singh of Patiala, in the year 1891, the palace is situated amidst thick deodar forests. Located hardly 1.5 km away is the famous Sidh Baba ka Mandir.