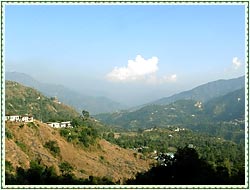 Min Temperature:
15
0
C (Summers), -10
0
C (Winters)
Max Temperature:
30
0
C (Summers), 10
0
C (Winters)
Best Time To Visit:
December to March (for skiing), April to June (fruit season)
Narkanda appears beautiful dotted with oak trees, and its beauty gets doubled when it snows. In the summers, the orchards loaded in red apples look just amazing. So, whether it's winter or summer, Narkanda never fails to attract people with its naturally beautiful landscape. Being sited in the hilly region influenced by the Shivaliks, the climate is mostly salubrious round the year.
The summer season prevails from April to June, which is the time when apple orchards appear at their best. During summers, the temperature fluctuates between the maximum of 30°C and the minimum of 15
0
C. At nights, usually the weather gets cool. Monsoons months of June and August make the whole area appear greener and cleaner with erratic rain showers, while making nights quite cold.
The winter months which extend from October till March are chilly, with the maximum temperature reaching 10
0
C and the minimum -10
0
C. The temperature hovers over freezing point during December-February, when usually it snows there. Light woolens and cottons are recommended to carry in summers, while heavy woolen clothing is required in winters, in Narkanda.