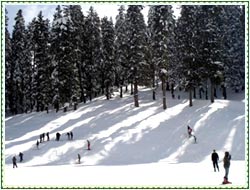 Narkanda is a pristine hilly beauty located in the foothills of Himalays. Spectacular views and untouched natural environs of Narkanda are a call to nature enthusiasts all around the world to haunt this magically beautiful town situated in Himachal Pradesh. An alluring landscape and serene ambience is the hallmark of this wondrous place. In winters, the snow clad Shivalik ranges of the majestic Himalayas astonish the viewers with its grandness and splendor. The article lists some of the interesting fun activities to do in Narkanda to make your journey a joy forever.
Fun Activities to Do in Narkanda
Trekking
Trekking and hiking is an exciting activity to do in Narkanda as it is surrounded by hills. Trekking on the Hatu peak can be a good option for capturing a beautiful view of the Himalayas. There are many opportunities for long, short and rigorous trekking in Narkanda. The Jalori Pass trek begins from just beyond Narkanda and goes northwest over the Jalori pass in the Seraj region. One can begin from the Ani village where one can reach by bus or jeep from Luhri in the Sutlej valley below Narkanda. The road from Narknada follows down the Sutlej valley to enter Lahaul-Spiti and Kinnaur.
Skiing
Narkanda is famous all across India for skiing and winter sports. The mountain slopes come alive with skiers during the winter season in Narkanda skiing in Narkanda began in 1980 and ever since then HPDC is conducting skiing courses every year. It hires skiing equipments and provides everything from accommodation to transport to the tourists. The Directorate of Mountaineering and Allied sports also organize skiing courses from January. The choices of slopes vary from a beginners and salom slope. For the experienced skier, there are sharper descents.
Nature Walks
The scenic beauty of Narkanda is nothing less than incredible and awe-inspiring. Nature walks in this beautiful backdrop will be ideal for a spectacular view of the sturdy Himalayas. In fact, you will get to see some of the most beautiful sights through these walks, like the one to Hatu Peak. Explore the place in early morning walks and long strolls in the evening. Take care not to disturb nature and make minimum noise while on your walk, so as to absorb the soothing calmness of the natural environs.