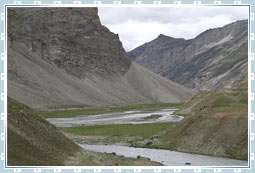 Drass, situated at a height of 3230 m, is the second coldest inhabited place in the world. It lies approximately 60 km to the west of Kargil, on the road to Srinagar. A small township located in the heart of the valley bearing the same name, Drass experiences extremely cold weather in winters. Recurring snowfalls during winters lower the temperature of this township to as low as minus 40 degrees. Zojila pass, the Himalayan Gateway to Ladakh, serves as the starting point of the Drass valley of Kashmir.
The late autumn or early spring season of Drass is quite risky from travel point of view. This is so because during this time period, the whole Drass valley of Kashmir (including Zojila pass) faces frequent snowstorms and remains snowed in. However, the inhabitants of Drass have been negotiating the dreadful Zojila pass, for years even during this unsafe period. They help in the transportation of trading commodities as well as stranded travelers across the valley. In fact, because of their expertise in crossing the pass, they were dominating the carrying trade during the zenith of the Pan-Asian trade.
Trekking in Drass is quite famous from the point of view of tourism. In fact, trekking is one of the highlights of Dras tourism. Drass valley offers both long as well as short treks to its tourists. One of the popular treks from Drass is the three-day long trek to Suru valley across the sub-range separating the two valleys. This trek takes you on a sightseeing trip to some of the most delightful upland villages. Also on the route of the trek is the Umbala pass (4500 m), offering a spectacular view of meadows on both sides, blossoming with beautiful flowers. Then, there is the famed trek to the holy cave of Amarnath, taking three days.