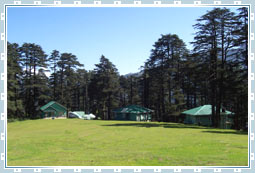 Patnitop, a beautiful hill resort of the Kashmir valley, is situated at a distance of 112 km from Jammu. Hovering above a beautiful plateau and encircled by dense forests, it is located at a height of 2024 m. Some of the main attractions of Patnitop, Kashmir are delightful picnic spots, serene walks and magnificent views of the mountains forming the backdrop of the Chenab basin. Patnitop hill station wears a thick coat of white snow in winters. A number of snow games like skiing add to the charm of the hill resort in winters.
Patnitop counts amongst the best-developed tourist spots in the Kashmir valley. The natural beauty, dense pine forests and flourishing green landscape of this hill resort makes it a popular tourist destination. Patnitop also boasts of three freshwater springs, with ice-cold water and said to have medicinal properties. A 6-hole golf course (now being expanded to 9-holes) lures tourists to Patnitop in summers. You can also take an excursion to Sudh Mahadev, a holy place near Patnitop. There are many activities to undertake while on a tour of Patnitop, Kashmir. For the adventure lovers, there are amazing trekking options near Patnitop.
Trekking is more enjoyable in Patnitop during summer, when all the treks open up. The most popular trekking route around Patnitop is the Sundarani-Jungal Gali-Jasarkote-Sanasar route in Jangal Gali area. This route offers you three exciting treks to choose from. Then, there are the opportunities of riding ponies along little known trails, paragliding, camping and walks. The flowery meadows of Patnitop consist of an ideal place for walks and picnics. Skiing courses are also conducted at Patnitop in the months of January and February. All said and done, Patni top has something to offer to everyone in every season, so come and explore this beautiful destination!