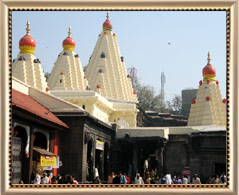 Shri Mahalaxmi Temple of Kolhapur is dedicated to Goddess Mahalaxmi, the consort of Lord Vishnu. It is believed that the Lord resides in this area, along with the Goddess. The temple holds the distinction of being one of the Shakti Peethas in India and is held in great regard by the people of Maharashtra. One can find the mention of the Mahalakshmi Temple of Kohlapur in the various puranas (holy books) of Hindu religion. It is believed to have been built somewhere around 700 AD, by the rulers of the Chalukya Empire.
The temple holds special significance for the devotees, since it is believed to be one of the six places in India, where one will either get his desires fulfilled or obtain salvation from them. The image of the deity has been placed on a stone platform. The Goddess is shown having four arms and crowned with a beautiful tiara, which has been made of precious gemstone and weighs approximately 40 kilograms. The crown has been adorned with an image of the Sheshnag, the serpent regarded as the vehicle of Vishnu.
In each of the four hands of the Goddess is a different object, believed to have symbolic value. The lower right hand holds a mhalunga (a citrus fruit) and the upper right hand holds a large mace (kaumodaki). In the upper left hand is a shield (khetaka), while in the lower left hand, there is a bowl (panpatra). Besides the idol stands a stone statue of a lion, considered as the vehicle (vahana) of Goddess Mahalakshmi. The image of Goddess Mahalaxmi looks towards the west (Pashchim) direction.
Unusual Phenomenon
On the western wall of the Mahalaxmi Temple of Kolhapur is a small window. It has been built in such a way that every year, the light of the setting sun falls on the face of the deity for three days. This phenomenon is noticed every year and it takes place around 21st of March and September.