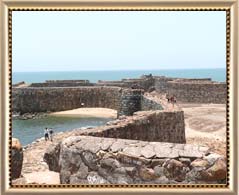 Maharashtra is known for its rich historical legacy. The land has been a silent witness to some of the most gruesome battles that have been fought in India. One such symbol of the rich historical past is the mighty Sindhudurg fort. It is situated in Sindhudurg district, which is located on the Konkan coast, south of Maharashtra. It can be reached by hiring local transport from Kolhapur. Sindhudurg derives its name from the conjunction of two words: Sindhu, which means Sea & Durg, which means Fort.
This majestic fort was built in the year 1664 by the great Maratha warrior leader, Shivaji. He devised very strategically, the location of the fort, keeping in mind all the possible dangers he would have to face like foreign attacks from sea-side, keeping a check on Sindhis of Murud-Janjira, etc. What is even more surprising is the fact that Shivaji was himself one of the constructors, among the 6000 skilled workers, who strived day and night to complete the construction of this sea-side splendor.
There was no compromise on the construction and the equipments. More than 4000 mounds of iron were used for casting. The foundation stones were laid firmly on a base of lead. The construction of this colossal fort began on November 25th, 1664 and was built over a period of three years. The fort occupies an area of more than 48 acres and its outer parapet is around 2 mile long. The mighty walls have braved the strongest tempests and have provided protection to its inhabitants from external attackers in the bygone era. The fort is a classic example of illusionary architecture and shows the brilliance of Shivaji. The entrance door of the fort is built in such a way that it merges among the walls. No one can really make out where the entrance until observed closely.