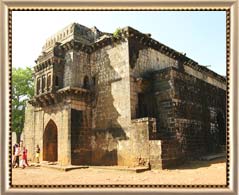 Panhala Fort is situated at a distance of approximately 19 km from the Kolhapur city of Maharashtra. Counted amongst the largest as well as most significant forts of the Deccan region of India, it stands perched at an altitude of around 850 m above the sea level. The fort is massive in size, with the circumference being approximately 7.25 km. Providing the perfect protection to the Panhala Fort, for half its length, is natural scarp that has been reinforced by a parapet wall. The rest half of the length has been protected with the help of a strong stone wall.
The wall, in turn has been strengthened with fortresses. Initially, Panhala fort had three huge double walled gates, of which only two remain today. To the west of the fort is Teen Darwaza, an impressive structure. The other attractions of Panhala Fort comprise of a number of monuments, which though ruined, still retain their splendor. There are three massive granaries inside the fort complex, with the Ganga Kothi being the largest amongst them. It covers an area of around 950 sq m and is 10.7 m in height.
A double story building, known as Sajja Kothi, is situated in the northeast corner of the building. It is the same place where Shivaji had imprisoned his wayward son, Sambhaji. Samadhi of Ramachandra Amatya, the author of Ajnapatra, an important work on statecraft, is also located inside the fort. Panhala Fort served as the capital of Shilahara King Bhoja II during, from 1178 to 1209. Thereafter, it went under the rule of Yadava and Bahamani Kings. Adil Shahi dynasty took over the fort in the year 1489.
Their occupation continued till 1659, when Chhatrapati Shivaji took over its control by defeating the Shahis. Infact, it was from Panhala Fort only that Shivaji escaped to Vishalgarh, when he was attacked by the forces of Siddi Johar. After this, the fort remained mainly under the control of Marathas, except for the time when Mughal rulers took over it (however, their rule did not last). Till the time India attained independence, Panhala Fort remained with the Kolhapur State. Whenever you visit the Kolhapur city of Maharashtra, make sure to visit Panhala Fort and experience the royal past of the state.