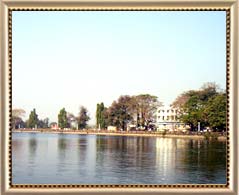 Situated in the Kolhapur city of Maharashtra, Rankala Lake is a scenic lake that boasts of serene and tranquil environs. A man-made lake, it was constructed by Maharaja Shri Shahu Chhatrapati during his reign over the city. The lake is believed to be linked directly with a well in the Panhala Fort. It is also said that Shivaji Maharaj himself crossed the lake, from the well. In the present times, Rankala Lake serves as a popular picnic spot for the residents of Kohlapur, where they come to spend sometime together as a family.
Sometime back, the municipal corporation of the city built the Padpath Udyan, to serve the purpose of providing a lakeside walk. The lake stands surrounded by the chowpati, along with a number of other gardens and pathway. The area that surrounds the Rankala Lake was converted into a garden and it seems to be dotted with stalls and hawkers selling street food like bhel-puri, ragda patis, roasted corns and other delicious snacks. One can also go for horse riding or boating at the lake.
As far as the history of Rankala Lake is concerned, it was basically a stone quarry before 8th century. However, the area around this place was shaken up by an earthquake around 9th century, which led to some sort of natural structural change in the quarry. An underground source of water got opened because of the earthquake, which resulted in the accumulation of water in the quarry. Later, Maharaja Shri Shahu Chhatrapati got the lake constructed at the same site where the quarry once stood.
Situated on the banks of the Rankala Lake is a temple, which is dedicated to Lord Shiva. It has a huge statue of Nandi Bull, the vehicle of Lord Shiva. It is said that the statue of Nandi moves towards the lake for a distance of a single wheat grain on a daily basis and after a while, comes back towards the temple, covering the same distance. People say that the day the idol reaches the lake; the whole world will get destroyed. Other major attractions situated near the Rankala Lake are Sandhya Math, Shalani Palace, Padmaraje Garden, etc.