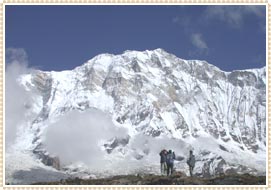 There is no dearth of sites and peaks in Nepal as far as hiking is concerned. Nepal has a cluster of sub-8000 meter and above 8,000 meters peaks. While the former is good for Hikers, the later is best for Peak-climbers. The Government of Nepal approves these sites and only the permit holders are allowed to scale these peaks. It does not matter at all if these peaks are 8000 meters high or 1000 meters; you will need permit at any cost. Following are some of the most popular hiking and peak-climbing sites: -
Kakani
Kakani is a popular hiking destination for the magnificent views of Annapurna (8091m), Manasalu (8165m), Ganesh Himal (7446m), Lantang lirung (7245m) and 24 other peaks. The place is the best to have an eagle eye view of the Kathmandu valley. This is a one-day trip from Kathmandu.
Nagarkot
Nagarkot is situated in the southeast of the Annapurna valley at an elevation of about 1800 meters. This spot is a popular destination and is also known as Sunset point. It attracts a lot of crowd in the evening. Annapurna, Manasalu, Ganesh Himal and Lantang lirung are some of the peaks that can be seen. This is also a one-day trip from Kathmandu.
Phulchoki
Phulchoki (2829m) is the most prominent peak that surrounds the valley of Kathmandu. This mountain is famous for its Roses, Yellow Jasmine, Iris and other native flowers. At the pinnacle, you will also find thick grooves of Rhododendrons in various hues. A youthful hiker can scale this peak in less than 3 hours. The place has all the makings of a peaceful resort area
Nagarjun
It is about 10km from the downtown Kathmandu. There is medieval shrine at the top. Both Buddhist and Hindus revere it. To reach the top one has to climb for about 15 to 20 minutes. From this point a panoramic view of the Himalayan ranges can be seen.
Dhulikhel
Dhulikhel is situated in the central Nepal. Situated just 32 km from the Kathmandu valley, the place offers grand and panoramic mountains views and numerous Temples. From there you can have a complete panoramic view of the snowy ranges from Karyolung in the east to Himalchuli in the west.
Pokhara
The rare combinations of snow clad peaks and snow fed lakes and rivers has helped to make the valley of Pokhara one of the most picturesque natural attractions in the Kingdom. A must for all visitors to Pokhara valley is the Fewa Lake, apart from the regular attraction such as the cap factory and Seti Gorge.