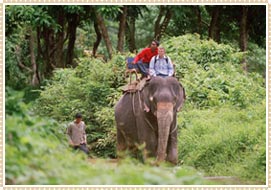 Nepal is a country of diversity. It has diverse relief, fauna, flora and ethnicity. Not only that, this country has got a beautiful natural environment as well. The Tarai region with its tropical forests can be safely adjudged as one of the well-preserved and vivid wildlife habitats in the South Asian Region. Nepal has as many as 17 Wildlife Sanctuaries and National parks that cover a total of 18 % of the entire land area of Nepal.
For those who wish to experience the untouched natural habitat at its best then Nepal is the place to be. And none can be a better way to do that than the Elephant or 4x4-Jeep Safari. Your ride on an elephant's back or on a 4x4-Jeep, accompanied by a fully trained guide who doubles up as Naturalists, will leave you with exaltation. In Nepal, Chitwan and Bardia are the two desserts on your platter. Royal Chitwan is Nepal's most popular National Park that offers excellent opportunity to see Royal Bengal Tigers, One horned Rhino, Crocodile and thrilling wilderness experience into its deep and dark tropical forests.
Apart from that, you have Bardia National park that is known for its different species of birds. This park is the best for bird watching. Situated in the far West of Nepal it is an area of extensive tropical forest that is covered by Sal trees and grasslands. A boat ride in the Turquoise-Blue Karnali River provides plenty of opportunities to view a vast variety of birds including Ruddy Shell-Duck, Darters, Kites, Brown headed Gulls, Cormorants, Oriental-pied Hornbills, Night Heron & Purple Heron, Bitterns, Orioles and Peacocks.
Most jungle safari consists of canoe rides in the Jungle-streams, nature walks, birds watching excursions and quick tours around the villages to discover unique culture and traditions of the indigenous people. Cultural and musical extravaganzas can be arranged on prior request.