Bungee Jumping

Hot Air Ballooning

Jungle Safari

Mountain Bikingl

Mountain Flights

Paragliding

Rafting

Hiking in Nepal

Trekking in Nepal

Peaks Opened for Trekking

Trekking Agencies in Nepal

Trekking Guides in Nepal

Trekking Tips for Nepal
Trekking Tips for Nepal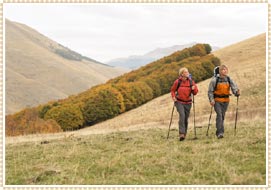 Mountaineering is not just a hobby, it is a passion. This is a passion that is possessed by people who love to stay close to nature and dare to test their potential against lofty mountains. Mountaineering is anything but easy and requires courage and strength. Mountaineering is the hobby possessed by the adventurous people. There are many beautiful and dangerous mountains in Nepal that are untouched by human interference. Free from pollution and daily busy schedule of materialistic life, we get to know how little we know about the features of our small life. Life has different shades and we must try to get every bit of it. Keeping in view the dangers involved, it will be fruitful for you to go through the following tips before venturing out for a trip in the lap of the Himalayas in Nepal: -
If you are still a novice, don't rush for stiff and huge mountains. Test your strength against small altitude hills.
Enthusiasm and physical strength can be related in sense that the amount of fun you will have while climbing will help to generate the body strength.
Motivation is required to complete this long journey so see what motivates you.
Examine your physical and mental strengths. Body resistance differs from person to person so avoid comparing yourself with others. You must be also technically sound to make proper use of tools with you.
Dehydration is the problem most of the mountaineers face during the course of their journey. Carry enough fluids and keep drinking them regularly.
Never overlook what your sixth sense says. Follow it or at least listen to what it is saying.
It is rightly said that experience is the best teacher. The problems you faced during the climbing the mountains should be analyzed so that the mistakes are not repeated again.
Meet some of the experienced mountaineers or certified guiding service and know about their good and bad experiences. Enquire about the necessary things required.
At higher altitudes, breathing becomes difficult and so it is advisable to learn how to face such situations. Create the habit of working at a very moderate pace for long periods of time. Go for aerobic exercises that will teach you to use our body to breathe efficiently. · Learn the basic climbing techniques such as rappelling, belaying, anchor systems, climbing protection, useful climbing knots, basic rope management, and most important, basic wilderness survival.
If you are too worried about fitness and heart problems then avoid it.
Try to maintain constant rate of climbing. You can practice this if you have hills near by. Improve your stamina by setting new goals of increasing your work out.
Carry an I-pod or portable MP3 player with you to avoid getting bored.
Preferably you can go for weight training programs. This will make you more energetic and prevent you from getting into unnecessary injuries.
02 Nights/03 Days
07 Days/06 Nights
09 Nights/10 Days
10 Nights/11 Days
09 Nights/10 Days
04 Nights/05 Days
12 Nights/13 Days
09 Nights/10 Days
15 Night/16 Days

Taj Mahal Tour

Rajasthan Tours

Kerala Tours

Kashmir Tours

Tamilnadu Tours

Adventure Tours India

Beach Tours India

Desert Tours India

Pilgrimage Tours India

Ayurveda Tours India

Buddhist Tours India

Temple Tours India

Sculpture Tours India

Golden Triangle Tour

India Heritage Tours

Hill Tours India

Honeymoon Tours India

Kerala Backwaters Tour

India Train Tours

Trekking Tours India

India Wildlife Tours

Karnataka Tour

Nepal Tour

Orissa Tour

Gujarat Tour

Andhra Pradesh Tour

Maharashtra Tour

Chardham Tour

Golden Chariot

Himachal Pradesh Tour

Sikkim Tour

Madhya Pradesh Tour