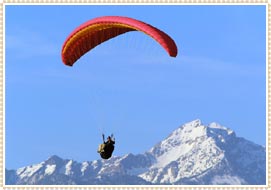 Like Bungee Jumping and Hot-Air Ballooning, Paragliding too is new to Nepal. Nevertheless, Para-Gliding was an instant hit among the tourists the year it was first launched. Paragliding in Nepal can be a truly wonderful and fulfilling experience for the adventure seeker. Since the 'Fall of Icarius', the men have always wanted to have their own wings. And as God is yet to be that generous, paragliding tries to fulfill that dream to some extent. And that is why; it is such a craze in Nepal. After all, who doesn't want to share his airspace with Griffin Vultures and Kites while smoothly gliding over villages, lakes and jungle with the dazzling and intimidating Himalayan peaks in the background?
Paragliding is a relatively new adventure sport in Nepal that is why you will not find much information in guidebooks. Even the famous 'Lonely Planet Series' will let you down. Your best bet is the tourist help cell at the Tribhuwan Airport. The concerned officers will make all the related information available.
As you know, Gliding is a weather dependent sport that is why various aspects like fog, drizzle and wind is kept in mind before the flight. Like other sports such as Bungee and Hot-Air Ballooning, the flying season in Nepal commences from November and ends around February. The best months though, are November and December. The takes off point for the majority of these paragliding flights is Sarankot that is at the height of 6000 feet. The flight will give you a panoramic view of sunrise and sunset in Himalayas depending upon the weather conditions. The descent is near the magnificent Fewa Lake. The icing on the cake is the fact that absolutely no previous experience is required to experience these flights. Of course, there are qualified paragliding trainers who provide a short briefing before launching.