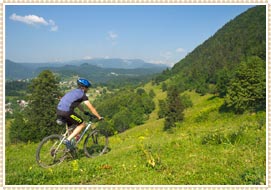 Mountain biking in Nepal is a great opportunity to explore the unexplored Nepal. Most of the tourists visit places that are very common and bustling with people across the year whereas mountain biking will take you to places that have not yet seen tourist onslaught. The best part of this activity is that, you are allowed to bike independently and stop at the place that catches your fancy. But that is only of course if the site falls on the prior decided route. The best part of this activity is that, you can go to places that are not reachable by any mode apart from bicycles.
Nepal has many trails to ride on. You can select any of them depending upon your mood and stamina. So it is solely upon you if you want to make a challenging climb thousands of meters to reach a picturesque point or you make an exhilarating descent to Royal Chitwan National Park. Talking of dampeners, the comparatively longer tracks require physical fitness and great stamina. There is no paperwork but you are not allowed to use regular bikes on prescribed tracks. Only mountain bikes are allowed.
Although more crowded than tracks of Northern Nepal, the Kathmandu valley provides some great opportunity for rides. It has many hidden trails. It is arguably the best way to visit the interesting towns, Temples and Stupas. There are things to keep in mind. Don't venture out at all without a proper trail map; say Schneider Trail Map, and a good compass. Keep a good sense of tracks and directions and yes, carry a Nepali phrasebook. You never know when you will need to brush up a bit of Nepali.
Popular Mountain Biking Tracks