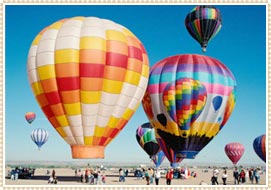 Hot air ballooning is new to Nepal. In fact, it was started in the year 2000 on the increasing demand of the foreign tourists. In the last decade, Hot-Air Ballooning and Bungee Jumping have successfully replaced the traditional adventure sports such as Trekking and Hill-Biking in Nepal. The most interesting thing with the Hot-Air Ballooning is that, it gives you a breathtaking view of Kathmandu valley. On a clear day, it is a superb way to view the Greater Himalayan Peaks.
Most of the rides start early morning as it takes more than half an hour for hot air to inflate the crumpled and dead cold balloon. As the burner guzzles gas, the balloon starts to pick up slowly. The departure is gentle and one hardly feels the ascent apart from a mild nudge. The advantage of this magnificent form of flight is that there is neither the hummer of engines, nor any airplane wings to obscure the mesmerizing and picturesque view.
The best months of Balloon flights are between October and March. Though at times, when weather permits, the ballooning season in Nepal stretches to April too. The only dampener is the fact that these flights are heavily dependent on the velocity and direction of the wind. The landings are generally done in the terraced paddies that stretch out across the fringes of the valley. Most of these flights take off from the historic town of Bhaktapur and, depending on which way the wind blows, takes you on a trip that gives you an eagle's eye view of Kathmandu town and the valley.