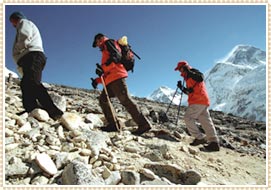 The trekking or mountaineering in an unknown world can be dangerous at times. No one can claim to have a good knowledge about the relief and other nuances of each and every place in this world. It might be possible that you feel at home at some place but get perturbed at other. Therefore, it is more than necessary to have a person with us who knows the finest of details of that locality and none, on the earth, can be more suitable than a well informed and experienced guide. The same stands true for Nepal too.
It is very important to distinguish between a tour guide and a trekking guide in Nepal. A tour guide is the one who don't require physical skills and can make do with good information about the place. Contrary to that, a trekking guide might not be well versed in History but it is his physical ability to trek smoothly, to lead and his knowledge about local geography that makes him stand apart. Never get confused and always ask for the valid identity proof and permit before hiring them. The authentic list of the "Trekking Guides" can be obtained from the tourist help cell at the Tribhuwan airport. Otherwise you can download the same from the official tourism website of Nepal.
These mountaineering and trekking guides are experienced and trained persons and that is why demand certain respect. Treat them as family and don't hesitate to give occasional tips and gifts. This will help him in mingling with you and will assure that he goes out of way to help you at times. You never know, at that height, he might hold the key of survival!