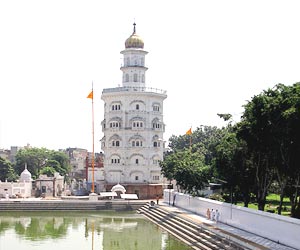 Gurdwara Baba Atal Sahib is one of the important tourist spots of Amritsar. Built in 1778-1784, it encompasses the rich beauty of culture and tradition of Punjab. The tallest building in Amritsar, the gurdwara is octagonal in shape, with a height of about forty meters. It is located very close to the Golden Temple and directionally, lies to the south-west of the famous gurdwara.
It is believed that Guru Hargobind breathed his last at Gurdwara Baba Atal Sahib, also known as Baba Atal Rai Tower. This explains the importance of the tower in the present times. The tower is named after Guru Hargobind's son. It is located very close to the main city of Amritsar. A nine-storey building, it boasts of lively architectural beauty engraved into it.
Initially, Baba Atal Rai Tower was built as a Samadhi or cenotaph, to enshrine the remains of Guru Hargobind and his youngest son, Baba Atal Rai. But with the passage of time, it was transformed into a gurdwara. Baba Atal Rai died at a tender age of nine and this nine-storey building stands for these nine years of his life. Despite such a short life span, he is revered as a Baba, because of the extra-ordinary powers he possessed.
Gurudwara Baba Atal Sahib attracts millions of pilgrims from all over the world. Besides, it is growing as one of the most visited tourist spots in Punjab. On the first floor of the holy tower, there are several miniature works depicting Guru Nanak's life. You can also get an enchanting, unmatched vision of the whole town of Amritsar from the top of the tower. It stands for the glory and artistic richness of the state.