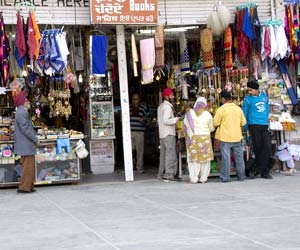 Punjab is a land rich with the unique collection of handicrafts and handlooms. If you wish to go for a shopping spree in the state, no place other than Amritsar will be the best option for you. A number of shopping joints line the city, offering a variety of materials to shop for. The eloquently embroidered shawls (phulkari), elegantly designed jootis (shoes), lacquered wood work, traditional jewellery, woolen blankets, parandis (hair worn embellishment) and durries (embroidered carpets and bed-spreads) are the main things you should carry back home from Amritsar. Besides, Amritsar is also well known for delicious Punjabi cuisines. You can taste it in any of the many restaurants in the city. The pickles of the area are very famous and easily available in most of the markets.
Amritsar Shopping Places
There are some prominent shopping centers in Amritsar, where you can get the maximum shopping items in one go. The important among them are discussed below:
Hall Bazaar
Hall Bazaar is one of the most important shopping complexes of Amritsar. You can get a variety of electronic items, jewelry, books, handicraft items like phulkari and ready-made garments available here in plenty. The bazaar is famous for Pakistani jootis and Chinese lights, available in different models. The Gandhi Gate, also known as the Hall gate, is the entrance to the bazaar and boats of a typical royal look, with a clock.
Guru Bazaar
Guru Bazaar is the oldest market in the city, widely known for the collection of gold and silver ornaments. Located between Guru Ka Mahal and Golden Temple, the bazaar is most visited for the traditional Indian jewelry 'jadau' and ornaments made of precious stones. You also get earthen lamp, glittering silver diyas, hatli and idols of Lord Ganesha and Goddess Lakshmi here.
Katra Jaimal Singh Market
This market is situated close to Hall Bazaar and has profuse collection of textiles, like saris, pashminas, marvelous beaded dresses, men's wedding dresses and attractive boxed shirt and tie sets with quasi designer names. The price is reasonable and there is a wide choice available here. Handicraft items can also be found here in plenty.
Kapda Bazaar
This is an exclusive market for ladies, where they can get both textile items and ornaments, at a cheap price. Dupattas, earrings, gorgeous salwar kameez, bangles, bindis etc are available in wide range here.
Other Markets
Apart from the shopping centers listed above, there are a few more markets in Amritsar, famous for special materials.