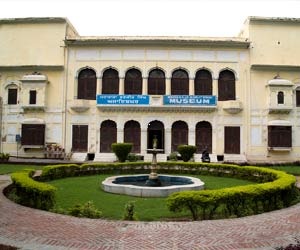 Ram Bagh Garden attracts a lot of tourists every year, owing to the enormous natural beauty it encompasses. It used to be the summer palace of Maharaja Ranjit Singh (1780-1839) in the past. Earlier, it was called the Company Garden. Later, Maharaja Ranjit Singh changed the name to Ram Bagh, to commemorate his unflinching devotion to Guru Ram Das, the founder of the city of Amritsar.
The garden is built in the model of Shalimar gardens in Lahore. It has a huge collection of plants and trees, some of them very rarely found anywhere else. It is rich in natural beauty, with the splendors untarnished by any outside factor. It stands out for its collection of rare coniferous trees, herbal plants and water channels set with fountains and golden fish. At one end of the garden, one can see a lively statue of the king seated on a horse.
The garden has a panorama of the Maharaja Ranjit Singh, which is the joint venture of The National Council of Science and Museums and the State Government of Punjab. This panorama depicts the important events in the life of the Great Maharaja through three-dimensional montages. Today, the summer palace of Ranjit Singh has been converted into a museum, which is rich with traditional items.
The museum boats of an exclusive display of antique weapons dating back to the Mughal times, portraits of ruling houses of Punjab and a replica of diamond "Kohinoor". In the earlier days, the garden was approached by a huge fortified gate, which exists even today. However, it is placed on the periphery of the garden today. There is just a nominal charge to enter into the garden. It is open to tourists every day except for Wednesdays.