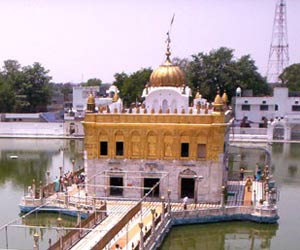 Shri Durgiana Temple is one of main pilgrim places in Amritsar. The temple, also called Shree Durgiana Tirath or Sitla Mandir, is situated outside the Lohgarh Gate in Amritsar. It is situated a few yards away from the Amritsar railway station and about 1.5 km from the Bus Stand. So, it is ideally approachable by road, rail and air. Build in 16th century; the temple closely resembles Golden Temple, in style and architecture. The temple was inaugurated by Pandit Madan Mohan Malviya and has Goddess Durga as the principal deity.
Sri Durgiana Temple was constructed by Guru Harsai Mal Kapoor, on the pattern of the Golden Temple. It is also known as Laxmi Narayan Temple. Lord Krishna as well as Lord Vishnu is also worshipped here, along with Goddess Durga. Daily rituals dedicated to Goddess Durga are performed. The temple has a dome and tank as its prime possession, which is considered sacred by the Hindu followers. Shree Durgiana Temple stands amidst a tank and has a dome illuminated with colorful glittering lights. The temple comes across as a rich work of artistry and architecture.
Shri Durgiana Temple is sometimes called the Silver Temple as well, owing to its carved silver doors. The temple complex boasts of some historic temples, like the Sita Mata Mandir and Bara Hanuman Mandir. The temple bears a distinct feature, totally different from the typical temple of ancient times. Major Hindu festivals like Dussehra, Janmashtami, Ram Navami and Diwali are celebrated with much pomp and show here. Shree Durgiana Temple is so famous that it is a must in the travel itinerary of Punjab.