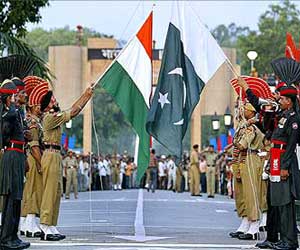 The legendary city of Amritsar is immersed in Punjabi and Sikh culture. It forms the convergent point of Sikhism and attracts pilgrims from all over the world. The city is located in an ideal position in Punjab. This makes it feasible to keep Amritsar as the base and plan short trips to various places of tourist interest that are situated nearby, also known as excursions. Some of the preferred excursions from Amritsar have been listed below.
Excursions from Amritsar

Tarn Taran
This is located at a distance of about 25 km from Amritsar. It consists of a sacred tank, which is said to have healing powers. It is popularly believed that if a patient suffering from leprosy swims across the tank, his disease will get cured. It has a gurdwara which was built by Guru Arjan Dev, in the memory of Guru Ram Das, in 1768 AD. The gurdwara has been built in the same style as the Golden Temple.
Dharamsala
Dharamsala is an excellent excursion option from Amritsar, located at a distance of 200 km. Popularly called "The Littla Lhasa in India", it is a much visited hill station of Himachal Pradesh. It has a variety of pine forests, tall deodar, tea gardens and beautiful hills. The Dhauladhar range makes a stunning mountain scape with Dharamsala, which is dotted with oaks and conifers. Its most popular attractions are - Mc.Leodganj, Bhagsunath, Tibetan Medical and Astro Institute, St.John's Church, War Memorial, Kunal Pathri, Jwalamukhi temple, Dharamkot, Triund, Bhagsunag Falls, Masroor and Nurpur.
Wagah Border
Wagah Border draws importance in being the army outpost of India and Pakistan. It is located just 28 km from Amritsar. Every evening, there is a change of guards here, accompanied by the hoisting and retreat of the respective national flags. This has an interesting view, which attracts thousands of tourists.
Amanat Khan Serai
This is one of the four remaining serais or inns dating back to the Mughal period. It houses the tomb of Amanat Khan, majestically guarded by the minarets on the four sides. The serai is located at a distance of 38 km from Amritsar. It provided accommodation to people passing the royal road from Atari to Govindwal. Its arched gateways and the bouli attached to the well have beautiful engravings.
Gurdwara Ber Sahib
Gurdwara Ber Sahib is a famous Sikh pilgrimage center located in the Kapurthala district of Punjab. It is only 60 km away from Amritsar and has been built in the vicinity of a Ber (Zizyphus jujuba) tree, whose sapling is believed to have been planted by Guru Nank Dev Ji. It was originally built by Baba Jassa Singh Ahluwalia and later constructed by Maharajah Jagatjit Singh of Kapurthala. It is believed that just near the gurdwara, Guru Nanak received enlightenment, started preaching Sikkhism and created 'Sukhmani Sahib'.
Baba Bakala
It is located 45 km away from Amritsar. The gurdwara at Baba Bekal marks the place where Guru Tegh Bahadur is said to have revealed himself to a Sikh devotee, Makhan Shah Labana. Devotees flock to the gurdwara on every amavas (no moon night) and on the rakhi festival (Rakhar Punnea).
Anandpur Sahib
An excursion to Anandpur Sahib involves a trip to the land of gurdwaras and forts. It is aptly called the 'City of Divine Bliss'. The Gurdwara of Kesar Sahib situated here is one of the four seats of Sikhism authority. A total of 12 relics from the life of Guru Gobind Singh and the six martyrs of Sikhism are preserved here.
Beas
Beas is the headquarters of Radha Soami Satsang, established by Baba Jaimal Singh. Millions of followers visit the Beas every year and imbibe the teachings from their masters.
Dera Baba Nanak
Located 35 km to the west of Gurdaspur, Dera Baba Nanak marks the site where Guru Nanak spent the last 12 years of his life. The clothes he wore at Mecca are preserved here. A fair called the Maghi fair is held here in every January.
Goindwal Sahib
It is located at a distance of 30 km from Amritsar. It used to be the centre of Sikh religion during the time of the third prophet, Guru Amar Das Ji. It has a deep well with 84 steps. It is believed that whoever takes bath here and recites "Japji Sahib" at each step, followed by bath in the Holy Well, 84 times attains salvation. Near to it is the Samadhi of Guru Angad Dev Ji, built by Maharaja Ranjit Singh in 1815 AD.
Khadur Sahib
Located 52 km away from Amritsar, Khadur Sahib commemorates the seat of Sikh religion during the time of Sikh Prophet, Guru Angad Dev Ji.
Hari-Ke-Pattan Sanctuary
This is a popular picnic spot near the confluence of the rivers Beas and Sutlej. It is located in the midway between Amritsar and Firozpur. Several migratory birds come here during winter. It is also one of India's leading sweet water fish markets.