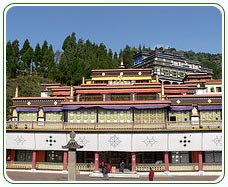 Gangtok is a wholesome tourist destination in the real sense of the term. This capital city of Sikkim has many attractions to explore in its terrain as well as in its suburbs. Gangtok is full of natural beauty and this reservoir of splendor overflows through its lofty mountains, green patches and stunning lakes. While touring Gangtok, don't miss the places to see near Gangtok. There are numerous tourist attractions around, offering impeccable excursions from Gangtok.
Gangtok is not a very big city like other metropolitan cities of India. Yet this largest city of Sikkim has great surprises for you in its heart as well as in its close proximity. Apart from the sightseeing tours, you can take several excursions from Gangtok. Some of the major excursions around Gangtok include Rumtek Dharma Chakra Center, Jawaharlal Nehru Botanical Garden, Saramsa Garden, Water Garden, Fambong La Wildlife Sanctuary, Kyongnosla Alpine Sanctuary, Tsomgo (Changu) Lake, Menmecho Lake and Nathula Pass.
Gangtok lies in the East Sikkim district and to notify in advance, these excursions from the city, are part of tours in East Sikkim. It is for sure that these excursions would be enough to keep you under the spell of Sikkim's exceptional beauty. Once visited, these places would certainly occupy a major part of your thoughts with their magical charm. There is no need to think twice, come and enjoy the multifarious splendor of Gangtok.