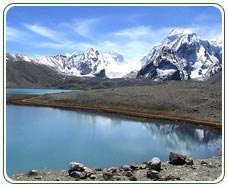 The northern part of Sikkim is certainly creditable for its sublime beauty. North Sikkim is actually held synonymous with 'Switzerland of India'. Moreover, North Sikkim is the largest district of all the four districts in Sikkim. This district boasts about some of the best attractions of Sikkim. If you are planning to tour Sikkim, don't miss to visit the north district that has numerous places to see and explore. Mangan enjoys the authority over the district, being its headquarters.
North District has the most mountainous terrain and this reason makes it also the lowest populated district of Sikkim. Many a parts of this district are inaccessible or require special permits to visit. The northern part is heavily patrolled by the India armed forces owing to its border sharing with the People's Republic of China. Most of the populace of the region houses near Mangan. Above Mangan, the altitude increases, causing the vegetation to change from temperate to alpine and from alpine to tundra.
North Sikkim is a resplendent region with high pastures, wild orchids, frozen lakes, ancient monasteries, holy chortens (stupas), striking animals and high mountains like Mt Siniolchu. It also offers you the best trekking region of Sikkim along with its Green Lake Trek (16,500 ft). So what are you waiting for? North Sikkim District has many tours to engage you in the celestial beauty of Sikkim. Check out the following links to know more about destinations in North Sikkim.
Kabi Longstock
Kabi Longstock is a small town that is located at a distance of 17 kms in the north of Gangtok. At an altitude of 4800 ft, Kabi Longstock is the historical place, where the record of Sikkim started in the 13th century.
Thangu
Thangu is one amongst the most picturesque places in the northern part of Sikkim. At a distance of 30 kms from Lachen, Thangu has alpine meadows that are speckled with wooden houses and army camps.
Tumlong Palace Ruins
Tumlong or Tumelong is a historical place that is significant in the records of Sikkim. In the beginning of the 19th century, the capital of Sikkim was shifted from Rabdentse to Tumlong. This was the fourth capital (remained for 90 years) of Sikkim.
Tso Lhamu Lake
Located at a distance of 192 kms from Gangtok, Tso Lhamu Lake is sited on the plateau that ventures into Sikkim. At an altitude of 18000 ft, Tso Lhamu Lake is the groundwork of River Teesta. The splendor of Tso Lhamu Lake gets twofold.