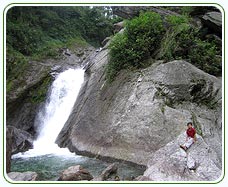 Singhik is a small quaint hamlet in the north district of Sikkim. Perched at a distance of 4 kms from Mangan on North Sikkim Highway, Singhik is a lovely town trapped in the natural beauty. Singhik is actually renowned for the splendid vista, it offers. The majestic range of Mt. Kanchenjunga looks stunning from Singhik viewpoint. This vantage point is situated just on the wayside of Singhik. A spectacular glimpse of Mt Siniolchu, Mt Kanchenjunga along with other ranges can be seen from Singhik View Point.
Apart from the stunning view of lofty mountains, Singhik also offers a panoramic vista of the contiguous places. Below this View Point, you can trace the converging point of River Teesta and River Kanaka. At an altitude of 4000 ft, Singhik becomes a relaxing stoppage for the travelers heading to Lachen or Lachung. Singhik is an impending tourist spot that has basic accommodation facilities for the visitors. One centrally located tourist lodge in the town looks after the accommodation needs of the tourists.
Situated amidst the lush green hills, Singhik commands soothing scenery of forested hills and alluring mountain streams. If you are interested in short treks, you can also move uphill towards the ancient Monastery. Besides this, one can also engage in treks that go towards the higher ridges of the adjacent hills. During your whole journey, various waterfalls and prominent lush green hills would capture your interest, making your trek really a pleasurable one. Singhik is undoubtedly a nice place, to spend some time, lingering in some beautiful relaxing thoughts.