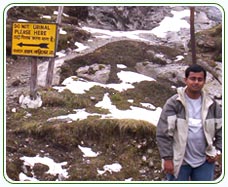 Sikkim is a land of several charms; whether it is divinity, spirituality, mysticism, exquisiteness or any other charisma, this state is just perfect. When you have planned to visit this alluring state, it is of due importance to know about the tourist attractions of Sikkim. Keeping in mind this requirement, we have jot down the places to see in Sikkim. Gangtok, being of prime magnitude, Sikkim has ample of interesting destinations for everyone.
Be it spiritual tour to monastery or trekking at inconceivable heights, Sikkim is full of remarkable tourist attractions that are worth visiting. The celestial beauty of this bewitching is ceaseless, the more you know and the more you would desire to visit. Sikkim is not any less than a paradise on the Earth. Once seen, it would be not difficult for you to savor and appreciate the state for its wonderful splendor.
Gangtok
Gangtok is a bewitching hill-station located amidst the multiple-hued mountains of Sikkim. Being the capital, Gangtok is the hub of all political and legal activities of Sikkim. The literal meaning of 'Gangtok' is 'hilltop'. Located in the lower Himalayas, Gangtok is a perfect destination to spend some quality moments in solitude. To confine the beauty of this city in words would be equivalent to say get the sea into a vessel.
Nathula Pass
Nathu La is a pass on the Indo-Chinese border that serves as a trade link between the two countries. Sited at a distance of 56 kms from Gangtok, Nathula Pass once had been the main access for Sikkim -Tibet Trade. Nathu La used to be known as the Silk Route. At an elevation of 14,450 feet, Nathula is renowned for its diverse alpine flora and fauna. The terms 'Nathu' and 'La' literally mean 'listening ears' and 'pass' respectively in Tibetan language.
Rumtek Monastery
Rumtek Monastery is the most cherished site of almost every Buddhist. Situated at a distance of 24 kms from Gangtok in Rumtek, the Monastery appears tranquil amidst the picturesque background of lofty hills and soothing waterfalls. Rumtek Monastery is one amongst the most important seats of Kagyu school of Buddhism outside Tibet. Originally, Rumtek Monastery was built in the 16th century under the supervision of Wangchuk Dorje, the 9th Karmapa with the financial assistance of the fourth King of Sikkim.
Himalayan Zoological Park
Himalayan Zoological Park is certainly a place for wildlife lovers in Sikkim. The Park has been established, to preserve the wildlife, without disturbing the creatures and keeping them in their natural habitat. Located in Bulbuley, Himalayan Zoological Park is at a distance of 3 kms from Gangtok. At an altitude of 5,840ft (1,780 mtrs), the Zoological Park also tenders a splendid view of Mt. Khangchendzonga. This Park sprawls in an area of 205 hectares in the mountainous terrain.
Phodong Monastery
Phodong Monastery is one amongst the six most important Buddhist monasteries in Sikkim, India. Perched on an altitude of 4500 ft, Phodong Monastery belongs to the Kargyupa sect (Karmapa). Perhaps, this is regarded as the first monastery related to the Kagyupa sect to be established in Sikkim. The Monastery is to be found a kilometer ahead of Phodong on a hill. This monastery can be reached easily by hiring private transport like taxis, jeeps, etc. from Magan in Sikkim.