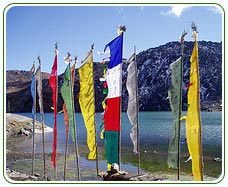 The East Sikkim District is undoubtedly the most important district, in terms of tourism as well as politics of Sikkim. Gangtok, being the headquarters of district, dominates the region with its administrative powers and also beauty. Once again, Gangtok becomes the center of attraction owing to its status of being capital of Sikkim. If you are scheduling to visit Sikkim, Gangtok in the east district would become your impeccable host and certainly engage you in its resplendent splendor.
The people of this region are really warm and affectionate. Tourism is the main source of income for these people; however some of them are affianced in agriculture. In the East Sikkim district, there are many attractions to visit on your tour. Gangtok is the first attraction, whose exquisiteness is really hard to mention in a few words. You can visit many destinations in and around Gangtok. East district is not very big that is why, for your convenience, we have given the distance and recommended transport from Gangtok.
White Hall
The White Hall is an edifice of historical value and boasts of classic British architecture. Situated on the Ridge, White Hall embraces two storeys in a distinctive manner. Built in 1932, White Hall got its name from Claude White (the first Political Officer of Sikkim).
Water Garden
Water Garden is a small attraction that serves as an ideal picnic spot for the residents of Gangtok. At a distance of 16 kms from the town, Water Garden is located at Martam Khola on the 31-A National Highway in the south.
Ridge Garden
Above the township of Gangtok, the Ridge is an extension of plain and smooth road. The spectacular Ridge Garden is accessible by a walk of 15 minutes from the main market of Gangtok.
Sa-Ngor-Chotshog Centre
Established in 1961, Sa-Ngor-Chotshog Centre is a Tibetan refugee monastic institution. The significance about this institution lies in the fact that it is only monastery that belongs to the Sakya order of Tibetan Buddhism in Sikkim.
Menmecho Lake
At a distance of 20 kms from Tsomgo Lake, Menmecho Lake is another beautiful lake that falls in the eastern part of Sikkim. Cuddled up amidst the mountains, Menmecho Lake is the groundwork of Rangpo-Chu (a tributary of Teesta River).
Hanuman Tok
Hanuman Tok is another temple, where the presiding deity is Lord Hanuman. Situated at a distance of 11 kms from Gangtok, Hanuman Tok is a tranquil place that also offers incredible view of the encircling mountains.
Orchid Sanctuary
Orchid Sanctuary is simply a pleasurable delight for any nature-lover. Located right below the Institute of Tibetology in Gangtok, Orchid Sanctuary boasts of not less than 454 species of orchids that are found in Sikkim.
Tashi View Point
Tashi View Point is a perfect destination, from where you can get a spectacular view of Mt Khangchendzonga and its ranges. Built by Tashi Namgyal (Late King of Sikkim), Tashi viewpoint is located at a distance of 4 kms from Gangtok.
Ganesh Tok
Ganesh Tok is a small temple that is dedicated to Lord Ganesha. Located at a distance of 7 kms from Gangtok, Ganesh Tok also offers a great spot from where the picturesque view of hills can be seen. At an elevation of 6,500 ft, temple is so small that it can barely adjust 1 person at a time.
Saramasa Garden / Ipecac Garden / Orchidarium
Saramasa Garden is a place resplendent with transcendent beauty. Located at a distance of 14 kms from Gangtok, Saramasa Garden sprawls in an area of 6 acres. Next to Rani Khola (a tributary of the Teesta), Saramasa Garden is to be found off the main road to Rangpo.