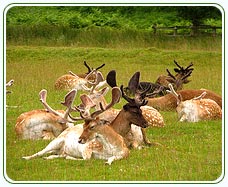 Recently, Deer Park is gaining popularity amongst the tourist attractions in Sikkim. This unusual park is renowned for housing many species of the deer. Also known as Rustamji Park, Deer Park also makes a nice vantage point because from here, one can see an enchanting view of the neighboring hills. The Park was named after Rustamji, who was one amongst the 'Dewans' of the 'Chogyal' of Sikkim. Rustamji is also acclaimed to be the author of the much cherished book "Enchanted Frontiers".
Deer Park is perched on the brink of a ridge that stands at the side of New Secretariat. Deer Park acts as a sanctuary for the deer, which are brought here from other parts of Sikkim and neighboring states. Established in the late 1950's, the Park has an open enclosure, where different kinds of deer are kept. It also embraces few cages that have animals like Red Panda Himalayan Bear and many others.
Deer Park houses a huge statue of Lord Buddha, who is preaching the noble truths to his followers. Actually, this scene is reminiscent of Lord Buddha's first sermon at Deer Park of Sarnath in Uttar Pradesh. Deer Park is also said to have been built to commemorate the Lord Buddha's reincarnation as a musk deer. In the forefront of this statue, a butter lamp glows continuously encircled by the most beautiful flowers.
The Park has a nice pavement to walk around. Amidst the gentle ripples of Rongnek stream and elevated hills, Deer Park is a decent destination to spend quality time enjoying the splendor of nature. For kids, certainly it would be an excellent place, where they can spot deer and long horned antelopes without any fear. The best to visit the park is early morning, when deer can be easily seen at the time of their meal.