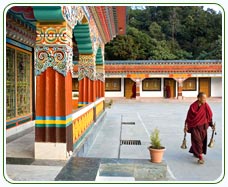 Gangtok is a bewitching hill-station located amidst the multiple-hued mountains of Sikkim. Being the capital, Gangtok is the hub of all political and legal activities of Sikkim. The literal meaning of 'Gangtok' is 'hilltop'. Located in the lower Himalayas, Gangtok is a perfect destination to spend some quality moments in solitude. To confine the beauty of this city in words would be equivalent to say get the sea into a vessel.
The natural splendor of this beautiful city is ever enchanting and mesmerizing. Perched at an altitude of 1,870m, Gangtok is certainly an impeccable tourist destination that has ample of places to see inside as well as around the city. Gangtok amidst the lofty mountains seems as if, it is conversing with the clouds. Steep Mountain slopes along with lush rice terraces, encircled by graceful, babbling, foaming rivers, just add to the beauty of Gangtok.
Being the capital of Sikkim and headquarters of East Sikkim district, Gangtok commands the official and political reasons of the state. Eventually, in the past few years, Gangtok has emerged as a bustling tourist destination. Gangtok is certainly an exceptional place, where natural beauty and cultural heritage can be seen simultaneously. Restraining Gangtok in lexis would be doing injustice to its beauty, so come to Gangtok and feel the heavenly experience for yourself.