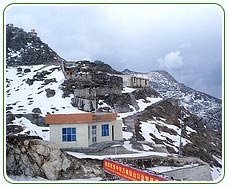 Nathu La is a pass on the Indo-Chinese border that serves as a trade link between the two countries. Sited at a distance of 56 kms from Gangtok, Nathula Pass once had been the main access for Sikkim -Tibet Trade. Nathu La used to be known as the Silk Route. At an elevation of 14,450 feet, Nathula is renowned for its diverse alpine flora and fauna. The terms 'Nathu' and 'La' literally mean 'listening ears' and 'pass' respectively in Tibetan language.
In 1961, this trade route was closed due to a bitter war between China and India. Recently in 2006, the trade between the two countries resumed after a conciliation. The road to Nathula is one of the highest motorable roads in India. This road passes through Tsomgo Lake on its way to Nathula Pass. For the most of the part of the year, this tranquil place remains covered under a thick layer of snow. A special permit is required in order to visit Nathula Pass.
Here, you can see Chinese armed forces shielding their side of the border. In the present day, tourists are permitted to visit Nathu La on certain days (Wednesday, Thursday, Saturday & Sunday) of a week. The opening of Nathu La is likely to boost the economy of Sikkim and would certainly help in growing Indo-China trade. Nathula Pass also curtails the traveling distance to major Hindu and Buddhist pilgrimage sites like Manasarover Lake and Lhasa.
In national terms, Nathu La is one amongst the three trading border posts connecting China and India, the other being Shipkila (Himachal Pradesh) and Lipulekh (Uttarakhand). In broader terms, Nathu La is a wonderful place to behold the nature's splendor and admire the armed forces that stand without the fear of sun or rain to guard their country.