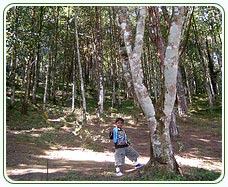 Jawaharlal Nehru Botanical Garden is a lush green expanse of land that enchants visitors with its serene beauty. Located near Rumtek Monastery on the highway, the Garden encompasses rare plants, trees and numerous species of flowers including Orchids of Himalayan region. This verdant green patch of land is maintained by the Forest Department of the Government of Sikkim under its unit of Parks and Gardens.
Established in 1987, Jawaharlal Nehru Botanical Garden embraces several varieties of botanical species. Jawaharlal Nehru Botanical Garden includes dense temperate forests of Oak too. It has not less than 50 different varieties of tree species. The wide range of plants and flowers is often regarded as the result of variation of altitude from 1800 mts to 2200 mts. The Garden is a concoction of well-nursed tropical and temperate plants.
A huge greenhouse has been erected in the garden, where different varieties of Orchids are grown. With the intention of merriment for children, a small recreational area has been made in the company of merry-go-round, swings and see-saw. In the mountainous region of Sikkim, Jawaharlal Nehru Botanical Garden is certainly a relishing treat for plant lovers. In general terms, the garden has been able to retain the position of an ideal picnic spot.
A concrete pavement across the garden leads to the hidden areas of the park and assures a stress-free saunter. On the opposite hill, one can see the rambling town of Gangtok. The best time to visit this garden is between the months of March to late May and from October to Mid-December. On your way to Rumtek Monastery, you can take a pleasurable halt at this Botanical Garden. Indeed, it would be a delightful experience for you.