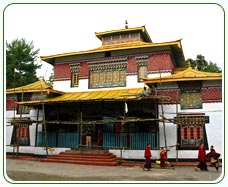 Enchey Monastery is an ancient religious site of the Buddhists in Sikkim, India. Located at a distance of 3 kms from Gangtok, Enchey Monastery is said to have been erected on the spot blessed by Lama Druptab Karpo, who was a great 'tantrik' master renowned for his flying powers. Dating back to 200 years, Enchey Monastery belongs to the Nyingma sect of Tibetan Buddhism.
As per the legend, Lama Druptab Karpo built a small hut at the spot, where he landed after he flew from Maenam Hill (South Sikkim). After many years, the present structure of the monastery was built during the reign of Sikyong Tulku (1909-1910). Shaped in the form of a Chinese Pagoda, Enchey Monastery makes the abode of around 90 monks belonging to the same order.
The literal meaning of Enchey Monastery is the 'Solitary Temple'. Initially, the Monastery was built with the belief that no other building would be made close to it. This monastery also houses antique images of Gods, Goddesses and other religious things. In the monastery, Buddha, Loki Sharia and Guru Padmasambhava are worshipped.
Enchey Monastery marks an important seat of Nyingma order. It also hosts an annual festival on every 18th and 19th days of the 12th month of the lunar calendar. At this juncture, 'Chaam' (Masked Dance) is observed in the monastery complex. For these two days, all the monks engage themselves in the mask dance portraying different mythological stories.