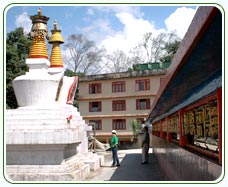 Do Drul Chorten is the most significant and perhaps the biggest stupa in Sikkim. Located near Gangtok, Do Drul Chorten makes a major part of the itinerary in the East Sikkim. In 1945, this holy stupa was built under the direction of Late Truslshi Rimpoche, who was the head of Nyingma sect of Tibetan Buddhism. Do Drul Stupa was built in compliance with the desire revealed by Dud-Zom Rinpoche in 1944.
Do-Drul Chorten embraces the entire 'Mandala' sets of 'Dorjee Phurba' (Bajra Kilaya), one set of 'Ka-gyur', full 'zung' (mantras), relics and other religious items. In close proximity of this 'chorten', there are not less than 108 'Mani-Lhakor' (Prayer Wheels). Actually, turning of these wheels implies that the person has to chant the mantras engraved on them. While turning the wheels, it is said "hail to the jewel in the lotus". This is spoken to summon 'Bodhisattva'.
The famous Do Drul Chorten has a gold plated spire. The Chorten is encircled by Chorten Lhakhang and Guru Lhakhang that boast of the two colossal statues of Guru Rinpoche (Guru Padmasambhava). One can see young and old lamas studying and working in the complex of Do Drul Chorten. Pilgrims from all over the state come to pay their homage at this sanctified stupa near Gangtok in Sikkim.