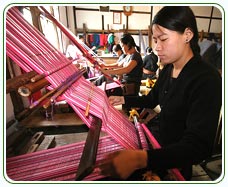 Directorate of Handicrafts & Handlooms is the recent name given to the old Handloom and Handicrafts Centre of Sikkim. Located at a distance of half kilometer from the main market of Gangtok, the centre is also known as the Government Institute of Cottage Industries (GICI). The Institute was founded during the reign of the Chogyals of Sikkim. The undertaking started with the intention to preserve and propagate the art & craft skills of the local artisans.
The Institute is an authentic warehouse of traditional handicrafts and handlooms that are exceptional to Sikkim. Here, you can see hand-woven carpets with traditional motifs, blankets, shawls (in Lepcha weaves), 'thangka' paintings, graceful 'Choktse' (hand carved foldable tables), hand-painted masks, dolls and many other objects. Established in 1957, the Directorate has an emporium from where you can buy every kind of handicraft at nominal price.
Apart from the above mentioned items, you can spot lovely dolls in wood, dappled appliqué work, batiks, lamp-stands, shade, bamboo-craft, sporadic silks, rich brocade and embroidered boots. Sikkimese Carpets get the main attention as the quality of these class carpets has made them popular not only in India, but in the whole world. Besides carpets, the exclusive hand made paper is another specialty of the Institute. This paper is made from the bark of Algeri tree.
The Institute has no less than hundred student workers, who produce the cottage crafts, following strictly the conventional rules of genuine Sikkimese designs. The carpets that are produced at the institute have fine textures and amazing designs ranging from stylish contemporary patterns to the traditional ones. The Directorate of Handicrafts and Handlooms welcomes numerous tourists, who come to buy and admire the crafts of Sikkim.