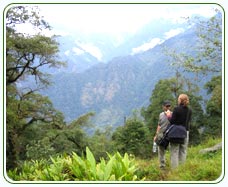 Sikkim allures people from far and near with its bewitching beauty. Ancient monasteries, elevated hills, mysterious flora and fauna… Sikkim has many reasons to visit the state for once. When you have planned to visit Sikkim and that too, for the very first time, you must be cautious about the risks that arrive while traveling to an unfamiliar place. To keep you away from such situation, we have compiled the Sikkim travel tips section. Here, you can browse a number of articles that covers the tour requirements in Sikkim.
Tips for traveling in Sikkim, concentrate on numerous subjects like health precautions, local transport, how to reach, entertainment, what to wear and many more to name. This section would really help you in planning an impeccable trip to Sikkim. Try to apply these traveling tips during your tour in Sikkim. It is said that "Prevention is better than cure". So, keep the phrase in mind, while traveling to a foreign land. The people of Sikkim are warm and friendly; still you never know the hidden target of anyone.
Make yourself on a safer side and travel with a bit caution. Sikkim lies on the border lands of India, therefore foreigners are required to obtain an Inner Line Permit (ILP) to enter the state. This permit can be gained through Indian missions abroad or from offices at Delhi and West Bengal of Sikkim Govt. In order to visit interior areas, people are required to get Protected Area Permit from Department of Tourism at M.G. Marg in Gangtok.
Following are some safety precautions for traveling in Sikkim:
Carry traveler's cheques as an alternative of hauling huge amount of cash. You can exchange these cheques at various money exchangers.
Keep all your essential documents and valuables in the deposit box of your hotel.
Don't ever leave your personal belongings unattended.
Prefer traveling in groups rather than alone.
Dare not to bring drugs or any illegal stuff to India, as it is a crime and the culpable will be treated severely.
Sikkim lies on the borderline; consequently many areas are restricted from people. Don't try to bribe or take some prohibited action, in order to enter.
While visiting monasteries, respect the cultural tradition of state. Remove your shoes outside and try not to wear offensive clothes.