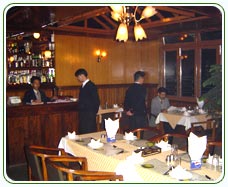 Sikkim is renowned not only for its exotic natural sceneries, but also for its traditional cuisine. Dining is an important part of our daily routine and when you are on a trip, it becomes all the more ponderous. If you are coming to this sublime state, there is no need to worry about your meals, as there are many restaurants to take care of your appetite. Like other states of India, Sikkim too, has its own typical dietetic culture with detailed cuisine.
Sikkim cuisine has developed with the outcome of conventional knowledge and experimental practice of generations. In Sikkim, Himalayas traditional foods form an essential part of dietary culture of the dwellers. Rice is an important part of Sikkim cuisine. The gastronomy of Sikkim mainly includes non-vegetarian dishes. Apart from this, you can get a variety of traditional fermented foods and beverages in Sikkim.
Some of the specialties of Sikkimese catering are Momo (steamed dumpling), Thukpa/ Gya-Thuk (Noodle Soup), Gundruk & Sinki (fermented vegetables), Chhurpi (traditional cottage cheese), Masaurya (fermented black gram) and Pakku (Mutton curry). In fact, if you are a liquor-seeker, then Sikkim is one of the best places in India to get booze at cheap rates. The state prepares a wide range of liquor with traditional recipes.
You can get locally brewed beer made from fermented maize, barley, wheat, cassava root and finger millet. Raksi is a type of special wine that is made particularly in the state. If you are not keen to try local cuisine, there are many restaurants and eateries that will offer you variety of cuisines varying from Chinese and Thai to Intercontinental and Italian food. You can also try roadside food stalls that truly observe hygienic preparations.
Most of the Hotels have restaurants in their complexes; here one can have diverse cuisines under a single roof. A number of eateries are positioned on the M.G Marg in Gangtok. Snow Lion is a fine restaurant in Hotel Tibet. In different regions of Sikkim, you can trace several restaurants that serve variety of relishing food. In Toto, plan a trip to Sikkim without any hitch regarding eating out in Sikkim. Here is provided a list of restaurants in Sikkim:
Restaurants