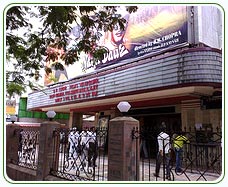 Sikkim is a small state, which is still on its way to develop commercially. Sikkim doesn't comprise of the superior lifestyle of metropolitan cities, thus one cannot expect the state to boast about many entertainment sources. Residents of Sikkim are not very well off, so people cannot afford expensive recreation modes. In the past few years, tourism has been promoted in Sikkim, considering its natural beauty. Arrival of tourists has developed the infrastructure of Sikkim to a great extent.
If you are planning to visit Sikkim, there is no need to panic as tourists remain engrossed in touring the attractions offered by the state. The enchanting beauty of Sikkim doesn't let anybody go away from it. However, there are two cinema halls that regularly show current movies of Bollywood. One of them is Vajra Cinema, which is located in Balukhani and the other, Denzong Cinema is at Lal Market. If you are interested in watching the local dance or cultural show, you can visit the Defence Auditorium at Tadong, where regular shows are organized.
Relaxing you a bit from your travel sickness, are many evening getaways that allow you to chill yourself. The 'Blues' (Enchey Compound, Tibet Road) is such a getaway, where you can enjoy boozing and dancing simultaneously. Tragopan Lounge (Hotel Mount Simvo, Tadong), Timeout (Convoy Ground, Tadong) and X'cape (Vajra Cinema, Baluwakhani) are some more evening destinations, where you can relax. If you happen to be a liquor fan, Sikkim has many pubs and bars to gratify you thirst. To put succinctly, Sikkim has adequate arrangements for the entertainment and recreation of people.