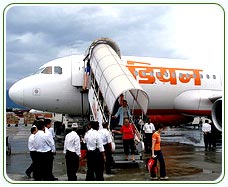 Sikkim is a small beauteous state of India, positioned in the foothills of Himalayas. In the past few years, Sikkim has become the most preferred tourist destination of people. Sikkim is enclosed by borderlines of several countries, making it a watched over state too. Being delimited by foreign lands on its three sides, Sikkim is accessible only by passing through West Bengal. All means of transport, whether air, rail or road, you have to pass through the state of West Bengal. However, there is no problem in traveling to Sikkim, as the state is well-connected with air, rail and road. If you happen to be a foreigner, then you are required to fulfill certain formalities that will be discussed later in this article. Read further to know about how to reach Sikkim…
By Air
Sikkim doesn't comprise its own airport, being situated in a hilly area. However, keeping in mind the response of tourists, the state is planning to establish its own airport soon. For the time being, the nearest airport lies at Bagdogra in West Bengal. Locating at a distance of 124 kms from Gangtok, Bagdogra Airport is connected with Kolkata, Delhi, Patna, Imphal and Guwahati. To Bagdogra, there are regular flights from Delhi, Kolkata and Guwahati.
By Helicopter
From Bagdogra, there is a Helicopter service to reach Sikkim and vice-versa. To avail this service, you have to contact your travel agent to get the booking done in advance. Helicopter takes around 20 minutes to reach Sikkim (Gangtok) from Bagdogra. This service is accessible only for once during a day and four passengers are permissible at a time.
By Rail
Sikkim doesn't encompass any rail network in its periphery, since it falls in hilly region. The nearest railway stations are Siliguri and New Jalpaiguri that lie at distances of 114 kms and 126 kms respectively. Both of these stations are well-connected with Delhi, Kolkata, Guwahati and other major cities of India. From railways stations, one can head for private taxis and regular buses that connect with Gangtok in Sikkim.
By Road
Though Sikkim is positioned at the foothills of the Himalayas, the state has a fine network of roads. Sikkim can be entered through northern areas of West Bengal. Gangtok is linked by road with Calcutta (721 km), Darjeeling (139 km), Guwahati (589 km) and Patna (584 km). It is also directly connected with Siliguri and Kalimpong. The road, connecting Siliguri and Gangtok, is the busiest route in and out Sikkim. There are regular bus services by the Sikkim Nationalized Transport. One can also hire taxis or cabs from different towns to reach Sikkim.
Entry Formalities
Foreigners are required to get an Inner Line permit in order to enter Sikkim. This permit can be obtained from Indian Missions overseas. This permit consents a stay of seven days for sightseeing. In case group trekkers (not exceeding 20) are going, then this permit extends to ten days.